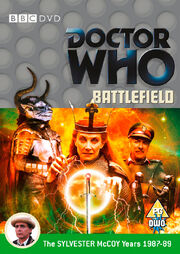 Disc 1: Original TV Version
Edit
Commentary
Edit
Commentary by Sophie Aldred (Ace), Nicholas Courtney (Brigadier), Angela Bruce (Brigadier Winifred Bambera), Ben Aaronovitch (Writer), Andrew Cartmel (Script Editor).
Storm Over Avallion
Edit
Cast and crew talk about the making of Battlefield. With actors Sylvester McCoy, Sophie Aldred, Nicholas Courtney, Jean Marsh, Angela Bruce and Marcus Gilbert, director Michael Kerrigan, writer Ben Aaronovitch and script editor Andrew Cartmel. Produced by Steve Broster. (22'30")
Past and Future King
Edit
Ben Aaronovitch and Andrew Cartmel look back at how the story was commissioned and written, with additional comments from Sylvester McCoy, Sophie Aldred, Nicholas Courtney, Angela Bruce and Michael Kerrigan. Produced by Steve Broster. (12'00")
Watertank
Edit
Illustrated with behind the scenes footage of the actual event, Sophie Aldred and members of the cast and crew recall the on-set accident that happened during the making of Battlefield, when a glass water tank shattered with Sophie still inside it. With Sophie Aldred, Sylvester McCoy, Michael Kerrigan and Andrew Cartmel. (6'36")
From Kingdom to Queen
Edit
Actress Jean Marsh looks back on her three appearances in Doctor Who. (8'06")
Studio Recording
Edit
Behind the scenes on the studio recording of Battlefield, taken from a VHS tape made from the live studio output. (18'56")
Trails and Continuity
Edit
A selection of off-air continuity announcements from the original and repeat BBC1 transmissions. (5'10")
Isolated Score
Edit
The option to watch the story with Keff McCulloch's music score on an isolated audio track.
Photo Gallery
Edit
A selection of rare and previously unpublished photographs from the recording of this story.
Radio Times Billings
Edit
Listings for this story from the BBC magazine Radio Times in PDF format.
Coming Soon
Edit
A preview of The E-Space Trilogy box set. The trailer for this story is available on The War Machines.
Production Subtitles
Edit
Text commentary by Richard Molesworth providing cast details, script development and other information related to the production of this story.
Disc 2: Special Edition
Edit
Battlefield: Special Edition
Edit
A brand new 95 minute movie-format extended edit, exclusive to this DVD, featuring numerous cut scenes reinstated, revised CGI video effects and a new Dolby 5.1 surround sound mix.
Season 26 Trailer
Edit
John Nathan-Turner's specially commissioned teaser trailer for the press launch of the last season of the classic series.