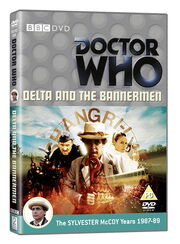 Commentary
Edit
Commentary by Sylvester McCoy (the Doctor), Sara Griffiths (Ray), Chris Clough (Director), Andrew Cartmel (Script Editor).
But First This
Edit
Andi Peters presents this feature on location with the cast of Delta and the Bannermen. Includes interviews with Sylvester McCoy, Bonnie Langford and Ken Dodd.
Interview Rushes
Edit
The raw footage from the But First This interviews.
Wales Today
Edit
A BBC Wales news report on the making of the programme, with behind-the-scenes footage and interviews with Sylvester McCoy and producer John Nathan-Turner.
Part One: First Edit
Edit
The original, longer cut of Delta and the Bannermen Part One, without music or sound effects.
Hugh and Us
Edit
An interview with Hugh Lloyd MBE about his career and his work on Delta and the Bannermen.
Clown Court
Edit
Taken from the popular Noel Edmonds Saturday Roadshow. Noel Edmonds and Sylvester McCoy present out-takes from Delta and the Bannermen, plus bloopers from the recording of the sketch.
Stripped for Action: The Seventh Doctor
Edit
A documentary about the comic strip adventures of the Seventh Doctor, featuring writer and editor Scott Gray, writers Simon Furman, Paul Cornell and Andrew Cartmel, artist Lee Sullivan, and former Doctor Who Magazine editors John Freeman, Gary Russell and Alan Barnes. Produced by Marcus Hearn (Phoenix Media). (Widescreen)
Trails and Continuities
Edit
A selection of off-air continuity announcements from the original BBC1 transmission.
Radio Times Billings
Edit
Illustrations, articles and listings for this story from the BBC magazine Radio Times in PDF format.
Production Subtitles
Edit
Text commentary by Andrew Pixley providing cast details, script development and other information related to the production of this story.
Photo Gallery
Edit
A selection of rare and previously unpublished photographs from the recording of this story.
Coming Soon
Edit
A preview of The War Games. The trailer for this story is available on The Deadly Assassin.