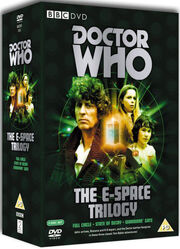 Commentary
Edit
Commentary by actor Matthew Waterhouse (Adric), Andrew Smith (writer), Christopher H. Bidmead (script editor).
All Aboard the Starliner
Edit
Cast and crew look back at the making of this story. With actors Lalla Ward, George Baker, John Leeson and Bernard Padden, director Peter Grimwade, writer Andrew Smith, script editor Christopher H. Bidmead and film cameraman Max Sammett. Produced by Steve Broster. Duration: 24'18"
K9 in E-Space
Edit
A look at the robot dog's role in the E-Space arc. With actors Lalla Ward, John Leeson, script editor Christopher H. Bidmead, writers Andrew Smith and Terrance Dicks. Produced by Steve Broster. Duration: 4'36"
Multi-Coloured Swap Shop
Edit
Noel Edmonds chats to Matthew Waterhouse and takes calls from viewers of the Saturday morning entertainment show after Waterhouse's first appearance as Adric. Duration: 8'06"
E-Space - Fact or Fiction?
Edit
A look at the science behind the concept of Exo-Space. Could E-Space really exist? With script editor Christopher H. Bidmead, visual effects designer (and Fellow of the British Interplanetary Society) Mat Irvine, authors Stephen Baxter and Paul Parsons, planetary scientist Dr. Andrew Ball and astronomer and television presenter Sir Patrick Moore. Narrated by Sophie Aldred. Produced by Keith Barnfather. Duration: 14'34"
Trails and Continuity
Edit
BBC1 continuity announcements from the original transmission. Duration: 2'54".
Isolated Score
Edit
The option to watch the story with Paddy Kingsland's music score on an isolated track.
Radio Times Billings
Edit
Listings for this story from the BBC magazine Radio Times in PDF format.
Production Subtitles
Edit
Text commentary by Richard Bignell providing cast details, script development and other information related to the production of this story.
Photo Gallery
Edit
A selection of rare and previously unpublished photographs from the recording of this story.
Coming Soon
Edit
A preview of The Rescue / The Romans box set. The trailer for this story is available on Battlefield.
Ad blocker interference detected!
Wikia is a free-to-use site that makes money from advertising. We have a modified experience for viewers using ad blockers

Wikia is not accessible if you've made further modifications. Remove the custom ad blocker rule(s) and the page will load as expected.