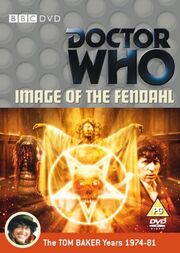 Commentary Edit
Commentary by Tom Baker (the Doctor), Louise Jameson (Leela), Wanda Ventham (Thea Ransome), Edward Arthur (Adam Colby).
After Image Edit
Anthony Read (script editor) and Colin Mapson (Visual Effects Designer) join actors Louise Jameson, Edward Arthur and Wanda Ventham in their analysis of the story. Thanks to: Richard Bignell, Derek Handley; Colourist: Jonathan Wood; Camera/Editor: Steve Broster; Executive Producer: Dan Hall; Producer: Richard Molesworth. (26'21" | 16:9 | 2008)
Deleted and Extended Scenes Edit
Material originally edited out of the programme is presented here courtesy of a low-quality monochrome video recording made during production. Archive Material: Jan Vincent-Rudzki; Video Processing: SVS Resources; Producer: Richard Bignell. (11'28" | 4:3 | 1977/2008)
The original BBC1 trailer screened prior to this story's transmission in 1977. (0'21" | 4:3 | 1977)
Photo Gallery Edit
A selection of rare and previously unpublished photographs from the recording of this story. Thanks to: Derek Handley, BBC Photograph Library. (5'36" | 4:3 | 2008)
Production Subtitles Edit
Text commentary by Richard Molesworth providing cast details, script development and other information related to the production of this story.
PDF Materials Edit
Illustrations, articles and listings for this story from the BBC magazine Radio Times in PDF format.
Coming Soon Edit
A preview of The Deadly Assassin. The trailer for this story is available on Attack of the Cybermen. (0'57" | 4:3 | 2008)
Easter Egg Edit
A Very Leela Christmas. Go to the 'Special Features' menu. Navigate to 'Trailer' and click left to highlight the hidden Doctor Who logo. (0'38" | 16:9 | 2008)