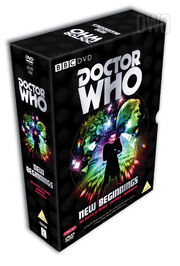 Commentary
Edit
Commentary by Tom Baker (the Doctor), Janet Fielding (Tegan), Christopher H. Bidmead (writer).
A New Body at Last
Edit
A documentary covering the transition from Tom Baker to Peter Davison. Featuring actors Tom Baker, Peter Davison, Matthew Waterhouse, Sarah Sutton and Adrian Gibbs, script editor Christopher H. Bidmead, directors Peter Moffatt and John Black. Narrated by Denis Lawson. Produced by Paul Vanezis. Duration: 50'20"
Nationwide - Tom Baker
Edit
An interview with Tom Baker from the BBC news magazine show. Duration: 4'30"
Nationwide - Peter Davison
Edit
An interview with Peter Davison on his forthcoming role as the Doctor. Duration: 3'40"
Pebble Mill at One - Peter Davison
Edit
Peter Davison interviewed on the long-running BBC lunchtime show. Duration: 12'00"
News Items
Edit
A selection of BBC News items, including reports on Tom Baker and Lalla Ward's wedding, the announcement of Tom Baker's departure and Peter Davison's arrival. Duration: 1'55"
Continuity
Edit
A selection of off-air continuity announcements. Duration: 2'23"
Photo Gallery
Edit
A selection of rare and previously unpublished photographs from the recording of this story. Duration: 8' 23"
Isolated Music
Edit
The option to listen to Paddy Kingsland's specially composed soundtrack on an isolated audio track.
The Doctor Who Annual 1982
Edit
In the 1960s, 1970s and early 1980s the Doctor Who Annual was published every year in time for the Christmas market, and made an excellent stocking-filler! Now many of the annuals are collectors items. The Doctor Who Annual from 1982 is presented on this DVD in its entirety.
Radio Times Billings
Edit
Illustrtions, articles and listings for this story from the BBC magazine Radio Times in PDF format.
BBC Enterprises Literature
Edit
Selected literature produced by BBC Enterprises about Season 18 in PDF format.
Production Subtitles
Edit
Text commentary by Martin Wiggins providing cast details, script development and other information related to the production of this story.