Commentary Edit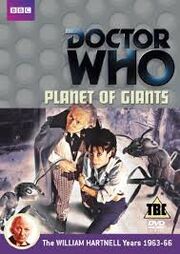 Commentary by Clive Doig (Vision Mixer), Brian Hodgson (Special Sounds Creator), Sonia Markham (Make-up Supervisor), David Tilley (Floor Assistant) and Mark Ayres (Moderator).
Episodes 3 and 4 Reconstruction Edit
The final two episodes of Planet of Giants were edited into a single episode for transmission. Using the original scripts, newly recorded dialogue and animation, this feature gives viewers an idea of how the original four-part version might have appeared.
Rediscovering The Urge to Live Edit
The team behind the reconstruction explain how it was put together.
Suddenly Susan Edit
Carole Ann Ford talks about her role as the Doctor's granddaughter and the first companion in the TARDIS in this interview originally recorded for The Story of Doctor Who.
The Lambert Tapes - The Doctor Edit
Doctor Who's original producer looks back on her time on the series in the second part of this interview recorded for The Story of Doctor Who.
Prop Design Plans Edit
Designs from the story (DVD-ROM only - to be viewed on PC/Mac).
Radio Times Listings Edit
Episode listings and features about Planet of Giants from the BBC listings magazine Radio Times (DVD-ROM only - to be viewed on PC/Mac).
Optional Arabic Mono Audio Edit
The chance to view the story with a dubbed Arabic soundtrack.
Production Information Subtitles Edit
Subtitles provide the viewer with cast details, script development and other information related to the production of Planet of Giants.
Photo Gallery Edit
A selection of production, design and publicity photographs from this story.