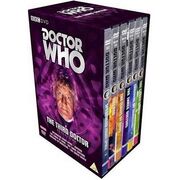 Commentary Edit
Commentary by Nicholas Courtney (Brigadier) and Caroline John (Liz Shaw). (2000)
BBC Two Trailer: Episodes 1 & 2 Combined Edit
Specially-made television trailer for episodes 1 and 2 from 1999's BBC Two repeat season. (0'33" | 4:3 | 1999)
BBC Two Trailer: Episode 3 Edit
Specially-made television trailer for episode 3 from 1999's BBC Two repeat season. (0'23" | 4:3 | 1999)
BBC Two Trailer: Doctor Who Night Edit
Specially-made television trailer for BBC2's Doctor Who Night in 1999. (0'44" | 4:3 | 1999)
UNIT Recruiting Film Edit
Made in 1993 for the programme's 30th anniversary celebrations on BBC1, this five-minute featurette gives a light-hearted overview of the UNIT organisation throughout all periods of the programme's history. Producer: Kevin Jon Davies. (4'49" | 4:3 | 1993)
Photo Gallery Edit
A selection of photographs from the recording of this story are included, featuring many new images that have never been published before.
Production Subtitles Edit
Text commentary by Richard Molesworth providing cast details, script development and other information related to the production of this story.
Easter Egg Edit
Unused/Alternative Main Title Sequence. Click on the 'Doctor Who' logo on the main screen or press '6' on your DVD remote control. (0'46" | 4:3 | 1970)
Ad blocker interference detected!
Wikia is a free-to-use site that makes money from advertising. We have a modified experience for viewers using ad blockers

Wikia is not accessible if you've made further modifications. Remove the custom ad blocker rule(s) and the page will load as expected.