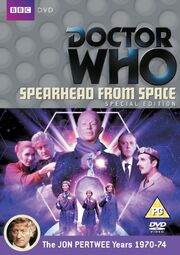 Commentary Edit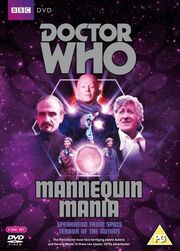 Commentary #1 by Nicholas Courtney (The Brigadier) and Caroline John (Liz Shaw),
Commentary #2 by Derrick Sherwin (producer) and Terrance Dicks (script editor).
Down to Earth Edit
Cast and crew look back at the making of this story, with Jon Pertwee (the Doctor), Derrick Sherwin (producer), Barry Letts (producer), Terrance Dicks (script editor), Christine Rawlins (costume designer) and Robin Squire (assistant script editor).
Regenerations: From Black and White to Colour Edit
A documentary looking at the challenges for Doctor Who in 1970 as it moved into colour.
UNIT Recruitment Film Edit
A spoof army recruitment film put together for BBC transmission during Doctor Who's 30th anniversary celebrations in 1993.
Trailers Edit
Two trailers for the 1999 BBC2 transmission of Spearhead from Space and for Doctor Who Night from the same year.
Radio Times Listings Edit
Episode listing for Spearhead from Space from the BBC listings magazine Radio Times (DVD-ROM only - to be viewed on PC/Mac).
Production Subtitles Edit
Subtitles provide the viewer with cast details, script development and other information related to the production of Spearhead from Space.
Photo Gallery Edit
A selection of production, design and publicity photographs from Spearhead from Space (with optional subtitles).