Commentary Edit
Commentary by Barry Letts (producer and director), Katy Manning (Jo Grant), and Nicholas Courtney (The Brigadier).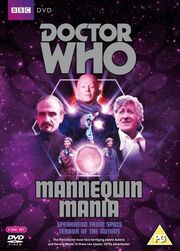 Life on Earth Edit
A special documentary looking at the making of Terror of the Autons. It features interviews with Barry Letts, Terrance Dicks (script editor), Katy Manning, Jon Pertwee (The Doctor) (1995 archive footage), Richard Franklin (Captain Mike Yates), and Phil Collinson (Doctor Who producer, 2004-2008).
The Doctor's Moriarty Edit
A documentary focusing on The Master, particularly his introduction in Terror of the Autons. It features interviews with Barry Letts, Joseph Lidster (writer, Torchwood and The Sarah Jane Adventures), Christopher Bidmead (script editor, 1980-1981), Terrance Dicks, Katy Manning, and Robert Shearman (writer, new Doctor Who).
Plastic Fantastic Edit
A documentary looking at the ubiquity of plastic in the modern world, and particularly in the early 1970s, when Terror of the Autons was made. Features interviews with Robert Shearman, Francesca Gavin (art writer and critic), Matthew Savage (new Doctor Who set designer), and Terrance Dicks.
Photo Gallery Edit
A selection of rare and previously unpublished photographs from the recording of this story.
Production Subtitles Edit
Text commentary by Martin Wiggins providing cast details, script development and other information related to the production of this story.
Nestlé Promotion Edit
In 1971, the Nestlé company produced a series of chocolate bars with wrappers promoting the then-current Doctor Who serials. The wrappers -- 48 in all -- featured a story called Doctor Who Fights Masterplan "Q". All 48 wrappers, along with other promotional materials, are collected in PDF format.
Sugar Smacks Promotion Edit
A collection of Doctor Who promotional materials featured on Kellog's Sugar Smacks cereal from 1971 are collected in PDF format.
Radio Times Billings Edit
Episode listings for this story from the BBC magazine Radio Times in PDF format.
Coming Soon Edit
A trailer for the then-forthcoming Frontios DVD.