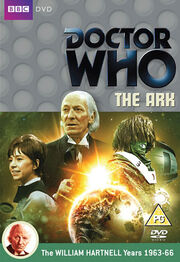 CommentaryEdit
Commentary by Peter Purves (Steven), Michael Imison (Director), Toby Hadoke (Moderator).
All's Wells That Ends WellsEdit
The First Doctor was the kind of scientist and adventurer popularised by the novels of H.G. Wells. But how much does Doctor Who owe to the 'Father of Science Fiction'? This documentary features writers and historians Matthew Sweet and Dominic Sandbrook, author and critic Kim Newman, literary editor Graham Sleight, and Anthony Keen of the Open University. Researcher: Simon Guerrier; Camera/Editor: Thomas Guerrier; Special Thanks To: The National Portrait Gallery; Executive Producer: Dan Hall; Producer/Director: Thomas Guerrier. (13'16 | 16:9 | 2011)
One Hit WonderEdit
What separates one-off monsters such as the Monoids from eternal favourites like the Daleks? This short documentary tries to answer this question, with help from Dominic Sandbrook, Matthew Sweet, Kim Newman, and author Jacqueline Rayner. Researcher: Simon Guerrier; Executive Producer: Dan Hall; Producer/Director: Thomas Guerrier. (4'36" | 16:9 | 2011)
Riverside StoryEdit
Matthew Sweet takes actor Peter Purves back to the studio that hosted numerous Doctor Who productions in the 1960s. This documentary also features the director of The Ark, Michael Imison. Writer/Presenter: Matthew Sweet; Researchers: Simon Guerrier, Jim Sangster; Executive Producer: Dan Hall; Producer/Director: Thomas Guerrier. (20'20" | 16:9 | 2011)
Photo GalleryEdit
A selection of rare and previously unpublished photographs from the recording of this story. Music: Tristram Carey; Special Sound: Brian Hodgson; Thanks To: BBC Photograph Library, Derek Handley, Ralph Montagu, Jan Vincent-Rudzki, David Carlisle; Producer: Paul Shields. (3'31" | 4:3 | 2010)
Production SubtitlesEdit
Text commentary by Jim Smith providing cast details, script development and other information related to the production of this story.
Radio Times BillingsEdit
Episode listings for this story from the BBC magazine Radio Times in PDF format.
Coming SoonEdit
A preview of Mara Tales. The trailer for this story is available on TBC. (1'15" | 4:3 | 2010)
Ad blocker interference detected!
Wikia is a free-to-use site that makes money from advertising. We have a modified experience for viewers using ad blockers

Wikia is not accessible if you've made further modifications. Remove the custom ad blocker rule(s) and the page will load as expected.