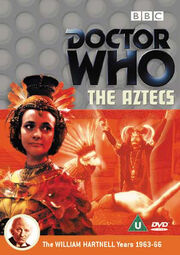 Commentary Edit
Commentary by William Russell (Ian Chesterton), Carole Ann Ford (Susan Foreman) and Verity Lambert (Producer). Recorded 15/04/02. (2002)
Remembering the Aztecs Edit
In a newly recorded exclusive documentary, actors John Ringham (Tlotoxl), Ian Cullen (Ixta) and Walter Randall (Tonila) discuss their memories of making this story. Interviewer: Richard Bignell. Produced by Peter Finklestone. (28'20" | 4:3 | 2002)
Blue Peter: Cortez and Montezuma Edit
The history of the Aztecs, Montezuma and Cortez, as told by Valerie Singleton from an edition of Blue Peter originally broadcast on 21/09/70 on BBC1. (5'55" | 4:3 | 1970)
Restoring The Aztecs Edit
A look at the digital remastering process, including VidFIRE which restores much of the original video appearance to archive film recordings, and has been used on all four episodes of this story. Includes footage from Terror of the Autons and The Krotons. (8'09" | 4:3 | 2002)
TARDIS-Cam No.3 Edit
Another brand new CGI model sequence from BBCi's TARDIS-Cam feature. Produced by James Goss. (1'06" | 16:9 | 2002)
Intro Sequences Edit
Select 'Play All' on the main menu to hear a randomly-selected introductory message from either Tlotoxl, Tonila or Ixta. There are six introductions in total.
Designing the Aztecs Edit
Designer Barry Newbery looks back on his contribution to the story. Interviewer: Richard Bignell. Produced by Peter Finklestone. (24'34 | 4:3 | 2002)
Making Cocoa Edit
Tlotoxl and Tonila show you how to make this special Aztec drink. (2'30" | 4:3 | 2002)
Arabic Soundtrack Edit
The final episode of this story is presented with an option to view it in Arabic.
Photo Gallery Edit
A selection of rare and previously unpublished photographs from the recording of this story. (3'50" | 4:3 | 2002)
Production Subtitles Edit
Text commentary by Richard Molesworth providing cast details, script development and other information related to the production of this story.
Easter Egg Edit
BBCtv Enterprises Worldwide Globe. Go to the 'Special Features' menu. Click on the hidden Doctor Who logo to the left of the 'Intro Sequence'. (0'13" | 4:3 | 1964)