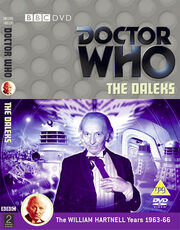 CommentaryEdit
Episode 2 - The Survivors: Commentary by Verity Lambert (Producer), Christopher Barry (Director), Gary Russell (Moderator)
Episode 4 - The Ambush: Commentary by William Russell (Ian Chesterton), Carole Ann Ford (Susan Foreman), Christopher Barry (Director), Gary Russell (Moderator)
Episode 7 - The Rescue: Commentary by William Russell (Ian Chesterton), Carole Ann Ford (Susan Foreman), Richard Martin (Director), Gary Russell (Moderator)
Creation of the Daleks Edit
A documentary looking at the genesis of the monsters which would quickly become icons in their own right. From Terry Nation's script, through to the visual design of the creatures and their unique rasping voices, the concepts behind the Daleks are explored. With contributions from Sydney Newman, producer Verity Lambert, director Richard Martin, designer Raymond Cusick, sound designer Brian Hodgson, original Dalek voice David Graham, and original Dalek operator Michael Summerton. Interviewers: Richard Molesworth, Andrew Beech; Camera: Une Herzer; Sound: Angus Anderson; Photographic Research: Derek Handley; Colourist: Andrew Parkinson; Special Sounds: Brian Hodgson; Music: Tristram Carey; Producer: John Kelly. (17'00" | TBC | 2005)
Production Subtitles Edit
Text commentary by Martin Wiggins providing cast details, script development and other information related to the production of this story.
Photo Gallery Edit
A selection of rare and previously unpublished photographs from the recording of this story. Thanks To: Barry Newbery, BBC Photograph Library, Doctor Who Magazine, Derek Handley, Tony Clark. Special Sounds: Brian Hodgson. (5'33" | 4:3 | 2005)
Ad blocker interference detected!
Wikia is a free-to-use site that makes money from advertising. We have a modified experience for viewers using ad blockers

Wikia is not accessible if you've made further modifications. Remove the custom ad blocker rule(s) and the page will load as expected.