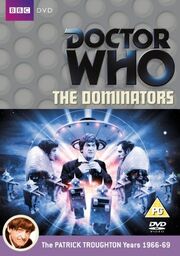 CommentaryEdit
Commentary by Frazer Hines (Jamie), Wendy Padbury (Zoe) [2-5], Giles Block (Teel) [1-3], Arthur Cox (Cully) [1,2,4,5], Sylvia James (Makeup Artist) [1,3], Toby Hadoke (Moderator). (2010)
Recharge and EqualiseEdit
A new documentary about the making of The Dominators. Featuring actors Frazer Hines, Felicity Gibson, Giles Block and Arthur Cox, script editor Derrick Sherwin, co-writer Mervyn Haisman, designer Barry Newbery, makeup artist Sylvia James, and Brian Hodgson of the BBC Radiophonic Workshop. Interviewer: Andrew Beech; Narrator: Stephen Greif; Producer/Director: John Kelly. (22'58" | 16:9 | 2010)
Tomorrow's Times - The Second DoctorEdit
A look at what the papers said about Doctor Who during Patrick Troughton's time in the TARDIS. Presenter: Caroline John. Narrator: Nicholas Courtney; Producer: Rorie Sherwood; Writer/Director: Marcus Hearn. (13'15" | 16: 9 | 2010)
Radio Times BillingsEdit
Episode listings for this story from the BBC magazine Radio Times in PDF format.
Production SubtitlesEdit
Text commentary by Martin Wiggins providing cast details, script development and other information related to the production of this story.
Photo GalleryEdit
A selection of rare and previously unpublished from the recording of this story. Editor: Derek Handley. (5'47" | 4:3 | 2010)
Coming SoonEdit
A preview of Revenge of the Cybermen / Silver Nemesis. The trailer for this story is available on Kamelion Tales. (1'25" | 4:3 | 2010)
Easter EggEdit
Scottish Falsetto Sock Puppet Theatre. Go to the 'Special Features' menu, select 'Photo Gallery' and click right to highlight the hidden Doctor Who logo. (2'37" | 16:9 | 2010)
Ad blocker interference detected!
Wikia is a free-to-use site that makes money from advertising. We have a modified experience for viewers using ad blockers

Wikia is not accessible if you've made further modifications. Remove the custom ad blocker rule(s) and the page will load as expected.