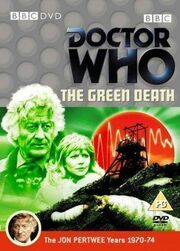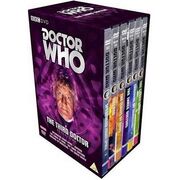 Commentary
Edit
Commentary by Katy Manning (Jo Grant), Barry Letts (Producer), Terrance Dicks (Script Editor).
The doctors explore An exclusive investigation into the social changes surrounding the closure of Llanfairfach's colliery, presented by the BBC's original Man Alive industrial correspondent, Terry Scanlon. With contributions from Mark Elgin, Professor Clifford Jones and Talfryn Pritchard. Written by Mark Gatiss. Produced by Paul Vanezis. (10'51" | Widescreen | [[Category:2004|2005
Visual Effects
Edit
Colin Mapson, who assisted Visual Effects Designer Ron Oates on this story, talks about his involvement with The Green Death, and demonstrates how to build a giant maggot. Produced by John Kelly. (11'38" | TBC | TBC)
Robert Sloman
Edit
The writer of The Green Death, Robert Sloman, discusses the inspirations and philosophies behind the story. Produced by John Kelly. (6'49" | TBC | TBC)
Stewart Bevan
Edit
An interview with the actor who played Professor Clifford Jones, the environmentally-conscious professor who falls for the Doctor's companion, Jo Grant, in this story. Produced by John Kelly. (7'41" | TBC | TBC)
Production Subtitles
Edit
Text commentary by Richard Molesworth providing cast details, script development and other information related to the production of this story.
Photo Gallery
Edit
A selection of rare and previously unpublished photographs from the recording of this story. (8'12" | TBC | TBC)
Easter Egg (Continuity)
Edit
Continuity announcements (original broadcast and BBC2 repeat). From the main menu screen, press the left arrow button to highlight the Doctor Who logo in the top left corner and select it. (4'07" | 4:3 | 1973, 1993)
Ad blocker interference detected!
Wikia is a free-to-use site that makes money from advertising. We have a modified experience for viewers using ad blockers

Wikia is not accessible if you've made further modifications. Remove the custom ad blocker rule(s) and the page will load as expected.