CommentaryEdit
Commentary by Peter Purves (Steven), Shane Rimmer (Seth Harper), David Graham (Charlie), Richard Beale (Bat Masterson), Tristan de Vere Cole (Production Assistant), Toby Hadoke (Moderator).
The End of the Line?Edit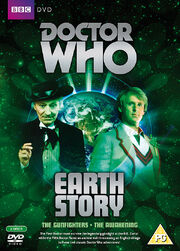 Once the nation's favourite, by its third year Doctor Who was in trouble. With changes afoot in the production office and increasing problems with its lead actor, the programme was heading for the Last Chance Saloon. This new documentary includes contributions from actors Maureen O'Brien (Vicki), Anneke Wills (Polly) and Peter Purves (Steven), script editor Donald Tosh, new series writer Gareth Roberts, and long-term viewer Ian Levine.
Tomorrow's Times: The First DoctorEdit
Contemporary news coverage of the William Hartnell era is examined in this new documentary presented by Mary Tamm.
Photo GalleryEdit
A selection of rare and previously unpublished photographs from the recording of this story. (TBC | 4:3 | 2011)
Radio Times BillingsEdit
Episode listings for this story from the BBC magazine Radio Times in PDF format.
Production SubtitlesEdit
Text commentary by TBC providing cast details, script development and other information related to the production of this story.
Coming SoonEdit
A preview of Paradise Towers. The trailer for this story is available on TBC. (TBC | 4:3 | 2011)
Ad blocker interference detected!
Wikia is a free-to-use site that makes money from advertising. We have a modified experience for viewers using ad blockers

Wikia is not accessible if you've made further modifications. Remove the custom ad blocker rule(s) and the page will load as expected.