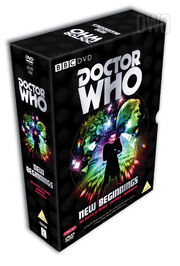 Commentary
Edit
Commentary by Anthony Ainley (Tremas), Matthew Waterhouse (Adric), Sarah Sutton (Nyssa), Johnny Byrne (writer).
Being Nice to Each Other
Edit
A documentary looking at the making of this story through the eyes of the cast and crew. Featuring actors Sarah Sutton, Sheila Ruskin, Geoffrey Beevers, director John Black, writer Johnny Byrne and script editor Christopher H. Bidmead. Narrated by George Williams. Produced by Paul Vanezis. Duration: 30'04"
The Return of the Master
Edit
Geoffrey Beevers, Christopher H. Bidmead and John Black talk about how they realised the return of the Doctor's arch-adversary. Produced by Paul Vanezis. Duration: 9'40"
Sarah Sutton on Swap Shop
Edit
Noel Edmonds interviews Sarah Sutton, with questions phoned in from young viewers. Duration: 11'14"
Trails and Continuities
Edit
TV trails and continuity announcements. Duration: 5'55"
Photo Gallery
Edit
A selection of rare and previously unpublished photographs from the recording of this story. Duration: 8' 23"
Isolated Music
Edit
The option to listen to Roger Limb's specially composed soundtrack on an isolated audio track.
The Doctor Who Annual 1982
Edit
In the 1960s, 1970s and early 1980s the Doctor Who Annual was published every year in time for the Christmas market, and made an excellent stocking-filler! Now many of the annuals are collectors items. The Doctor Who Annual from 1982 is presented on this DVD in its entirety.
Radio Times Billings
Edit
Episode listings for this story from the BBC magazine Radio Times in PDF format.
BBC Enterprises Literature
Edit
Selected literature produced by BBC Enterprises about Season 18 in PDF format.
Production Subtitles
Edit
Text commentary by Martin Wiggins providing cast details, script development and other information related to the production of this story.
Easter Egg
Edit
Anthony Ainley's Farewell. Let the credits play to the end during episode 4 and the egg will play automatically.