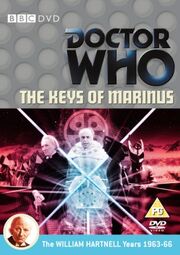 CommentaryEdit
Commentary by William Russell (Ian Chesterton), Carole Ann Ford (Susan Foreman), John Gorrie (Director), Raymond Cusick (Designer), Clayton Hickman (Moderator).
The Sets of MarinusEdit
Designer Raymond Cusick recalls his work on this story. Camera: Eric Huyton; Sound Recordist: Kevin Meredith; Colourist: Jonathan Wood; Online Editor: Matthew Tucker; Picture Research: Daniel Judd, Richard Bignell, Peter Ware, Derek Handley; Thanks to: Doctor Who Magazine, Richard Molesworth, David J. Howe; Executive Producer: Dan Hall; Editor/Producer: James Goss. (9'26" | 16:9 | 2009)
Photo GalleryEdit
A selection of rare and previously unpublished photographs from the recording of this story. BBC Radiophonic Workshop Archive: Mark Ayres; Thanks to: BBC Photograph Library, Derek Handley, Raymond Cusick. (7'26" | 4:3 | 2009)
Production SubtitlesEdit
Text commentary by Richard Molesworth providing cast details, script development and other information related to the production of this story.
PDF MaterialsEdit
Radio Times listings plus the entire set of Cadet Sweets 'Doctor Who and the Daleks' sweet cigarette cards in Adobe PDF format.
Coming SoonEdit
A preview of Dalek War. The trailer for this story is available on The Twin Dilemma. (1'22" | 4:3 | 2009)
Easter EggEdit
8mm behind-the-scenes footage of Patrick Heigham (Grams Operator) and Jack Brummitt (Sound Supervisor) in the studio Gallery. Thanks to: Patrick Heigham. Go to the PDF Materials menu and navigate left to highlight the Doctor Who logo. (1'10" | 4:3 | 1964)
Ad blocker interference detected!
Wikia is a free-to-use site that makes money from advertising. We have a modified experience for viewers using ad blockers

Wikia is not accessible if you've made further modifications. Remove the custom ad blocker rule(s) and the page will load as expected.