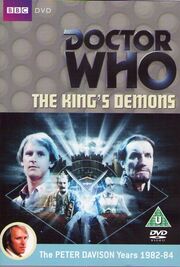 Commentary
Edit
Commentary 1 (Episodes 1 & 2) by Peter Davison (The Doctor), Isla Blair (Isabella), Eric Saward (Script Editor).
Commentary 2 (Episode 1) by Tony Virgo (Director).
Kamelion - Metal Man
Edit
A short history of the Doctor's robotic companion. With Peter Davison and Nicola Bryant, script editor Eric Saward and Kamelion co-creator Chris Padmore. Interviewer: Andrew Beech. Producer: John Kelly. (13'55" | 16:9 | 2009)
Magna Carta
Edit
What exactly was the Magna Carta and what is its relevance both throughout history and to our lives today? With Dr. Conrad Leyser, Dr. Richard Goddard and Michael McManus. Narrator: Sara Griffiths. Writer: David Harley. Producer: Stella Broster. (22'27" | 16:9 | 2010)
Isolated Score
Edit
The option to watch the story with Jonathan Gibbs's complete musical score on an isolated soundtrack.
Radio Times Billings
Edit
Episode listings for this story from the BBC magazine Radio Times in PDF format.
Production Subtitles
Edit
Text commentary by David Brunt providing cast details, script development and other information related to the production of this story.
Photo Gallery
Edit
A selection of rare and previously unpublished from the recording of this story. Editor: Derek Handley. (5'56" | 4:3 | 2009)
Coming Soon
Edit
A preview of The Dominators. The trailer for this story is available on Dalek War. (1'04" | 4:3 | 2010)