Commentary Edit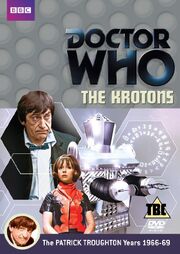 Commentary by Philip Madoc (Eelek), Richard Ireson (Axus), Gilbert Wynne (Thara), David Tilley (assisatant floor manager), Sylvia James (make-up designer), Bobi Bartlett (costume designer), Brian Hodgson (special sounds designer) and Toby Hadoke (moderator).
Second Time Edit
Facd with William Hartnell's deteriorating health but with a popular TV programme on their hands, the Doctor Who production team hit on the idea of 'regenerating" the show's hero and give him a new body. This documentary looks back over Patrick Troughton's tenure as the Second Doctor. With Anneke Wills (Polly), Deborah Watling (Victoria), Wendy Padbury (Zoe), Frazer Hines (Jamie), Derrick Sherwin (producer and script editor), Terrance Dicks (writer and script editor), Christopher Barry (director), Victor Pemberton (writer), Robert Shearman (new series writer), Gary Russell (new series script editor) and Richard Heffer (narrator).
Doctor Who Stories - Frazer Hines (Part One) Edit
Actor Frazer Hines reminsces about his time on the series in an interview originally recorded in 2003 for the BBC's Story of Doctor Who.
The Doctor's Strange Love Edit
Writers Joseph Lidster and Simon Guerrier take an affectionate look at The Krotons in the latest instalment in our continuing series.
Radio Times Listings Edit
Episode listing and features about The Krotons from the BBc listings Magazine Radio Times (DVD-ROM only - to be viewed on PC/Mac).
Production Subtitles Edit
Subtitles provide the viewer with cast details, script development and other information related to the production of The Krotons.
Photo Gallery Edit
A selection of productionn, design and publicity photographs from this story.
Coming Soon Edit
An exclusive new trailer for a forthcoming DVD release.