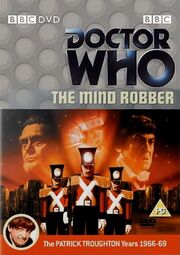 Commentary Edit
Commentary by Frazer Hines (Jamie McCrimmon), Wendy Padbury (Zoe Herriot), David Maloney (Producer) and Hamish Wilson (Jamie McCrimmon #2)
The Fact of Fiction: The Making of The Mind RobberEdit
The cast and crew of The Mind Robber look back on the making of this story, which had more than its fair share of challenges and memorable moments. With contributions from Frazer Hines (Jamie), Wendy Padbury (Zoe), Hamish Wilson (Jamie), Christopher Robbie (the Karkus), David Maloney (Director), Peter Ling (Writer), Derrick Sherwin (Script Editor and Writer) and Evan Hercules (Designer). Produced by Steve Broster. Produced by Richard Molesworth. Duration: 35'00"
Highlander: The Jamie McCrimmon Story Edit
Frazer Hines takes an informal look back at his time in Doctor Who as Jamie McCrimmon, his connections to the programme, and his career away from the TARDIS. Produced by Steve Broster. Produced by Richard Molesworth. Duration: 22'00"
Basil Brush Edit
During the 1970s, Doctor Who and Basil Brush were inextricably entwined in the Saturday evening TV schedule. This sketch from 1975 features an appearance by one of the Second Doctor's most popular foes, the fearsome Yeti, which utilises original Doctor Who costumes from the 1960s. (1975)
Photo Gallery Edit
A selection of rare and previously unpublished photographs from the recording of The Mind Robber are included.
Production Subtitles Edit
Text commentary by Martin Wiggins providing cast details, script development and other information related to the production of this story.
Easter Egg Edit
Continuity Announcements (1992 BBC2 Repeat). From the main menu screen, click on the hidden Doctor Who logo to the left of 'Episode Selection.'
Ad blocker interference detected!
Wikia is a free-to-use site that makes money from advertising. We have a modified experience for viewers using ad blockers

Wikia is not accessible if you've made further modifications. Remove the custom ad blocker rule(s) and the page will load as expected.