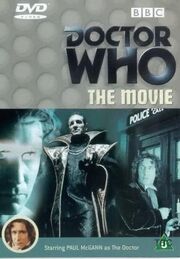 Commentary
Edit
Commentary by Geoffrey Sax (Director). Recorded 8/3/01. (2001)
BBC Trailer 1
Edit
Trailer for the 1996 BBC transmission. (0'37" | 4:3 | 1996)
BBC Trailer 2
Edit
Trailer for the 1996 BBC transmission. (0'25" | 4:3 | 1996)
Fox Promo
Edit
US Fox Network promotional feature. Including interviews with Sylvester McCoy, Paul McGann, Daphne Ashbrook, Geoffrey Sax, Eric Roberts, Philip Segal. (4'16" | 4:3 | 1996)
Interviews
Edit
Interviews with actors Sylvester McCoy (2'22"), Paul McGann (2'00), Eric Roberts (0'53"), Daphne Ashbrook (1'27"), Director Geoffrey Sax (2'17") and Executive Producer Philip Segal (2'08" & 9'01"), giving a unique retrospective insight into the making of the TV movie. (20'08" | 4:3 | 1996 & 2001)
Isolated Score
Edit
The soundtrack music composed by John Debney is available on an isolated audio track.
Four Audio Tracks
Edit
In a Dream (3'50"), Ride into the Moolight (3'25"), All Dressed Up (1'58"), Auld Lang Syne (0'43").
Photo Gallery
Edit
A selection of rare and previously unpublished photographs from the recording of this story. (Menu Navigation)
Production Subtitles
Edit
Text commentary by Richard Molesworth providing cast details, script development and other information related to the production of this story.
Behind the Scenes Compilation
Edit
Behind the scenes location footage looking at the shooting of three scenes: the Doctor being gunned down, the encounter with the cop and the Master taking over Bruce's body. (4'48" | 4:3 | 1996)
Philip Segal Tours the TARDIS Set
Edit
Philip Segal introduces the new TARDIS set. (2'35" | 4:3 | 1996)
Alternate Scene - "Give him the keys!"
Edit
An extension to the scene featuring the motorcycle traffic cop. (0'47" | 4:3 | 1996)
Alternate Scene - "Puccini!"
Edit
An earlier version of Grave and the Doctor in the hospital lift. (0'18" | 4:3 | 1996)
Easter Egg
Edit
Jon Pertwee Tribute Caption. On the main menu navigate to 'Play Movie' and click left to highlight the Doctor Who logo.