Commentary
Edit
Commentary by Philip Hichcliffe (Producer) and Chris Boucher (Writer). (2000)
Continuity
Edit
Original continuity announcement from episode 1. (0'21" | 4:3 | 1976)
Comparison Scene From Episode 1
Edit
To demonstrate the work done on Doctor Who after recording, there is a small section of material presented without sound effects, music or voice-dubbing. (1'17" | 4:3 | 1976)
Model Sequences
Edit
Various model shots of the Sandminer prop crawling across the stormy landscape were recorded, but not all of them were used in the finished programme. What remains today is black & white timecoded video recording of these sequences, selection of which are included on this disc (with thanks to Jan Vincent-Rudzki). (7'38" | 4:3 | 1976)
Continuity Slide
Edit
The continuity slide used for Season 14.
Studio Floor Plans
Edit
Studio floor plans for both studio sessions are included on this disc.
Photo Gallery
Edit
A selection of photographs from the recording.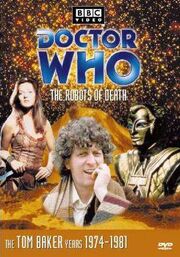 Region 1 Exclusives
Edit
Howard Da Silva Intros
Edit
Howard Da Silva syndicated Time-Life introductions and closings narrations. Produced by T.J. Lubinsky. (16'21" | 4:3 | 1978)
Who's Who
Edit
Cast filmographies and biographies.
Ad blocker interference detected!
Wikia is a free-to-use site that makes money from advertising. We have a modified experience for viewers using ad blockers

Wikia is not accessible if you've made further modifications. Remove the custom ad blocker rule(s) and the page will load as expected.