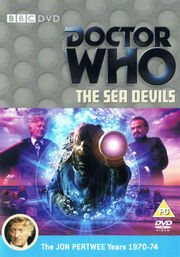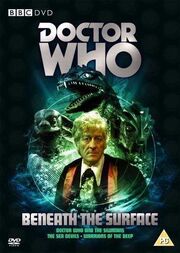 Commentary Edit
Commentary by Michael Briant (Director), Barry Letts (Producer), Terrance Dicks (Script Editor), Andrew Cartmel (Script Editor).
Hello Sailor! Edit
The trails and tribulations faced during the making of this story are discussed by the cast and production team. Featuring producer Barry Letts, script editor Terrance Dicks, director Michael Briant, actors Katy Manning and Donald Sumpter and stuntman Stuart Fell, along with Royal Navy personnel who appeared as extras during location filming. Narrated by David Cann. Produced by George Williams. (36'37") (2007)
8mm Film Edit
An amateur cine film shot during location filming at the Royal Naval base by one of the sailors who appeared as an extra. With commentary from director Michael Briant. (3'51") (1972)
Trails and Continuities Edit
A selection of off-air continuity announcements from the original BBC1 transmission. (6'18") (1972)
Radio Times Billings Edit
Illustrations, articles and listings for this story from the BBC magazine Radio Times in PDF format.
The Making of Doctor Who Edit
The classic Piccolo book, first published in 1972, is presented here in its entirety as a PDF file.
Production Subtitles Edit
Text commentary by Martin Wiggins providing cast details, script development and other information related to the production of this story.
Photo Gallery Edit
A selection of rare and previously unpublished photographs from the recording of this story. (8'38")
Coming Soon Edit
A preview of The Time Meddler. The trailer for this box set is available on Destiny of the Daleks. (1'03") (2007)
Ad blocker interference detected!
Wikia is a free-to-use site that makes money from advertising. We have a modified experience for viewers using ad blockers

Wikia is not accessible if you've made further modifications. Remove the custom ad blocker rule(s) and the page will load as expected.