Commentary Edit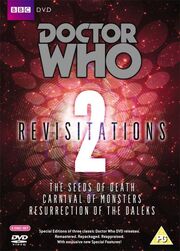 Commentary by Frazer Hines (Jamie), Wendy Padbury (Zoe), Michael Ferguson (director) and Terrance Dicks (script editor).
Production Subtitles Edit
Subtitles provide the viewer with cast details, script development and other production information, offering further insight into the making of The Seeds of Death.
Coming Soon Edit
A trailer for a forthcoming Doctor Who DVD release.
Lords of the Red Planet Edit
A look back at the creation of the Ice Warriors, and their re-appearance in The Seeds of Death. With Frazer Hines (Jamie), Wendy Padbury (Zoe), Michael Ferguson (director), Terrance Dicks (script editor), Bobi Bartlett (costume designer), Richard Bignell (TV historian) and Katherine Mount (narrator).
Sssowing the Ssseedsss Edit
Ice Warrior Sonny Caldinez, Ice Lord Alan Bennion and make-up designer Sylvia James recall their experiences of bringing the Martian Warriors to life.
Monster Masterclass Edit
Director Michael Ferguson talks about his experiences directing some of Doctor Who's most famous monster stories.
Monsters Who Came Back For More! Edit
Nicholas Briggs and Doctor Who Magazine's assistant editor Peter Ware take a look at the reasons why monsters often return for further adventures.
TARDIS Cam 6 Edit
A model vigette created for the BBC's Doctor Who website.
Photo Gallery Edit
A selection of production, design and publicity photographs from this story.
Radio Times Billings Edit
Listings for this story from the Radio Times from its original transmission in a PDF file (DVD-ROM only - to be viewed on PC/Mac).
Ad blocker interference detected!
Wikia is a free-to-use site that makes money from advertising. We have a modified experience for viewers using ad blockers

Wikia is not accessible if you've made further modifications. Remove the custom ad blocker rule(s) and the page will load as expected.