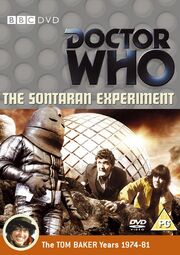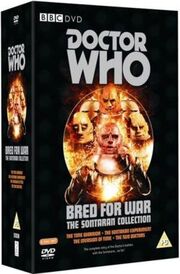 Commentary
Edit
Commentary by Elisabeth Sladen (Sarah-Jane Smith), Philip Hinchcliffe (producer), Bob Baker (co-writer).
Built for War
Edit
The genesis and development of the Sontaran race through the history of the series, as told by some of the actors and production team involved. This specially produced documentary includes contributions from Terrance Dicks, Elisabeth Sladen, Anthony Read, Colin Baker, Nicola Bryant, Bob Baker, Eric Saward and Stuart Fell. Producer: Richard Molesworth. Producer/Director: Steve Broster. (39'50" | 16:9 | 2006)
Production Subtitles
Edit
Text commentary by Martin Wiggins providing cast details, script development and other information related to the production of this story.
Photo Gallery
Edit
A selection of rare and previously unpublished photographs from the recording of this story. (4'42" | 4:3 | 2006)
Additional Special Features
Edit
Roger Murray-Leach Interview
Edit
The designer of The Ark in Space, Roger Murray-Leach, looks back on his contribution to this and other stories ('The Sontaran Experiment', Planet of Evil, The Deadly Assassin, The Talons of Weng-Chiang) in this specially recorded interview. Interviewer: Peter Finklestone; Videotape Editor: Adam Trotman; Producer: Paul Vanezis. Available on The Ark in Space. (10'29" | 4:3 | 2002)