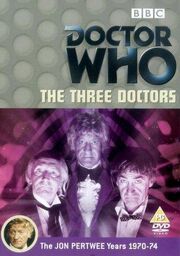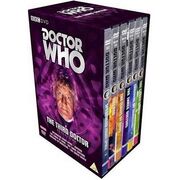 Commentary Edit
Commentary by Katy Manning (Jo Grant), Nicholas Courtney (Brigadier), Barry Letts (Producer). (2001)
BBC1 Trailer Edit
The trailer for the 1972 BBC1 transmission of the first episode. (1972)
Patrick Troughton Interview Edit
Shortly after The Three Doctors was transmitted, Patrick Troughton appeared on the BBC's lunchtime magazine programme Pebble Mill at One, and gave a rare interview about his time as The Doctor. Also featured in this segment is a demonstration by Bernard Wilkie of the BBC Visual Effects Department, and a selection of monsters from the programme - including the Gell Guards. (20'45") (1973)
Jon Pertwee at Panopticon Edit
Jon Pertwee and Katy Manning take to the stage at the lavish 1993 Panopticon convention staged by Dominitemporal Services Ltd to celebrate thirty years of Doctor Who. Highlights from this panel are exclusively included on this disc for the first time. (29'46") (1993)
Blue Peter Edit
The long-running BBC children's programme Blue Peter celebrated the tenth anniversary of Doctor Who on 5th November 1973. This look back at the history of the programme includes an appearance by Jon Pertwee in the Whomobile, a sizeable clip from episode 4 of The Daleks' Master Plan from 1965, and the only surviving clip of The Doctor's first regeneration from William Hartnell to Patrick Troughton in The Tenth Planet Episode 4 - an instalment now missing from the BBC archives. Presented by Peter Purves, John Noakes and Lesley Judd. (13'40") (1973)
BSB Highlights Edit
On 22-23 September 1990, satellite TV company BSB devoted a whole weekend to Doctor Who. The Three Doctors was screened, alongside interviews with Terrance Dicks (Script Editor), Nicholas Courtney (The Brigadier) and Bob Baker and Dave Martin (Writers) discussing their contributions to the story. (10'16") (1990)
The Five Faces of Doctor Who Edit
When BBC2 decided to host a season of repeats of old Doctor Who stories in 1981, The Three Doctors was chosen for transmission. Included is the full trailer for this repeat season, which also featured the stories An Unearthly Child, The Krotons, Carnival of Monsters and Logopolis. (1981)
40th Anniversary Celebration Edit
Montage of clips to a rockin' version of the theme tune celebrating 40 years of Doctor Who. (3'00")
Production Subtitles Edit
Text commentary by Richard Molesworth providing cast details, script development and other information related to the production of this story.
Photo Gallery Edit
A selection of rare and previously unpublished photographs from the recording of this story.
Ad blocker interference detected!
Wikia is a free-to-use site that makes money from advertising. We have a modified experience for viewers using ad blockers

Wikia is not accessible if you've made further modifications. Remove the custom ad blocker rule(s) and the page will load as expected.