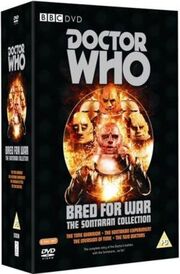 Commentary
Edit
Commentary by Elisabeth Sladen (Sarah-Jane Smith), Barry Letts (Producer) and Terrance Dicks (Script Editor).
Beginning the End
Edit
The cast and crew of The Time Warrior look back on the making of this story, in this newly produced featurette. Partially shot on location at Peckforton Castle, the original location used in this story, it features Elisabeth Sladen, Donald Pelmear (Rubeish), Jeremy Bulloch (Hal), Barry Letts (Producer), Terrance Dicks (Script Editor) and Keith Cheetham (Designer). Narrated by Simon Ockenden. Produced by Brendan Sheppard. (30'13") (2007)
CGI Effects
Edit
This gives the viewer the option to watch the story with some of the original effects replaced by new CGI versions. (2007)
Continuities
Edit
A selection of off-air continuity announcements from the original BBC1 transmission. (1'12") (1973)
Radio Times Billings
Edit
Illustrations, articles and listings for this story from the BBC magazine Radio Times in PDF format.
The Doctor Who Annual
Edit
In the 1960s, 1970s and early 1980s the Doctor Who Annual was published every year in time for the Christmas market, and made an excellent stocking-filler! Now many of the annuals are collectors items. The Doctor Who Annual from 1974 is presented on this DVD in its entirety. (1974)
Production Subtitles
Edit
Text commentary by Richard Molesworth providing cast details, script development and other information related to the production of this story.
Photo Gallery
Edit
A selection of rare and previously unpublished photographs from the recording of this story. (9'17")
Coming Soon
Edit
A preview of The Key to Time box set. Duration: 1'33". The trailer for this story is available on the Time-Flight / Arc of Infinity box set. (1'33") (2007)
Easter Eggs
Edit
Time Warrior Trivia. From the main menu screen, press the left arrow button to highlight the Doctor Who logo in the top left corner and select it. (1'32") (2007)
Photographic Memories. Go to the 'Special Features' section. Click on the hidden Doctor Who logo to the left of the 'Back' option. (0'40") (2007)
Additional Special Features
Edit
Built for War
Edit
The genesis and development of the Sontaran race through the history of the series, as told by some of the actors and production team involved. This specially produced documentary includes contributions from Terrance Dicks, Elisabeth Sladen, Anthony Read, Colin Baker, Nicola Bryant, Bob Baker, Eric Saward and Stuart Fell. Producer: Richard Molesworth. Producer/Director: Steve Broster. Available on The Sontaran Experiment. (39'50" | 16:9 | 2006)
Ad blocker interference detected!
Wikia is a free-to-use site that makes money from advertising. We have a modified experience for viewers using ad blockers

Wikia is not accessible if you've made further modifications. Remove the custom ad blocker rule(s) and the page will load as expected.