Commentary Edit
Commentary #1 by Deborah Watling (Victoria) and Frazer Hines (Jamie). Recorded in 2001.
Commentary #2 by Deborah Watling (Victoria) and Frazer Hines (Jamie), Bernard Holley (Haydon), Shirley Cooklin (Kaftan), Reg Whitehead (Cyberman), Victor Pemberton (Script Editor) and Toby Hadoke (Moderator). Recorded in 2010.
Morris Barry IntroductionEdit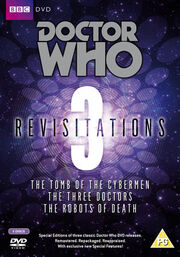 The director's introduction from 1993.
Title Sequence TestsEdit
Test and build-up elements from the Patrick Troughton Doctor Who title sequence.
Late Night Line-UpEdit
Behind the scenes at the BBC Visual Effects department in 1967.
The Final EndEdit
8mm film from The Evil of the Daleks.
The Abominable Snowmen Audio TrailerEdit
An off-air amateur recording of the BBC1 trailer for the story which follows The Tomb of the Cybermen.
Production SubtitlesEdit
Subtitles provide the viewer with cast details, script development and other production information offering further insight into the making of The Tomb of the Cybermen.
The Lost GiantsEdit
Cast and crew look back on the making of the story.
The Curse of the Cybermen's TombEdit
Sir Christopher Frayling and Dr Debbie Challis examine the story's ancient Egyptian origins.
Cybermen - Extended EditionEdit
A history of the Cybermen by Matthew Sweet.
The Magic of VidFIREEdit
The technology behind this unique process.
Sky Ray AdvertEdit
A 1960's ice lolly promo.
PDF MaterialsEdit
Episode listings from the Radio Times.
Photo GalleryEdit
A selection of rare and previously unpublished photographs from the recording of this story.