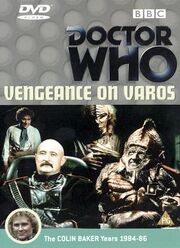 Commentary
Edit
Commentary by Colin Baker (The Doctor), Nicola Bryant (Peri) and Nabil Shaban (Sil). Recorded 29/3/01. (2001)
BBC One Trailer: Episode 1
Edit
Trailer for the 1985 BBC1 transmission of episode 1. (0'24" | 4:3 | 1985)
BBC One Trailer: Episode 2
Edit
Trailer for the 1985 BBC1 transmission of episode 2. (0'19" | 4:3 | 1985)
Extended/Deleted Scenes
Edit
Ten deleted or extended scenes from the story. (10'22" | 4:3 | 1985)
Behind the Scenes
Edit
An insight into the making of this story, with unique behind-the-scenes footage illustrating certain production difficulties. (4'42" | 4:3 | 1985)
Unmixed Soundtrack
Edit
Allows you the option to listen to the raw production sound as recorded in the studio, with no music or sound effects.
Photo Gallery
Edit
A selection of rare and previously unpublished photographs. (Menu Navigation)
Production Subtitles
Edit
Text commentary by Richard Molesworth providing cast details, script development and other information related to the production of this story.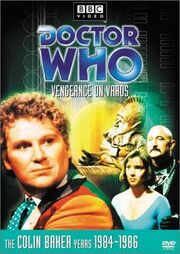 Region 1 Exclusives
Edit
Who's Who
Edit
Cast filmographies and biographies.